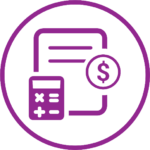 In Singapore, proper preparation and maintenance of accounting records is a key compliance requirement of ACRA and IRAS. Timely financial reports will also allow enable management to accurately access financial performance and make decisions that are critical to the success of the company.

Accounting & Bookkeeping Services. Singapore companies are required to maintain proper bookkeeping records and accounting documents in accordance with the Singapore Financial Reporting Standards (SFRS). Our team can assist in preparing full sets of management accounts on either a monthly, quarterly or annual basis. Through the use of Xero, our cloud-based accounting platform, you will now have access to your accounts anytime, anywhere.
Financial Statements Compilation Services. A compilation report will give you the assurance that the information is compiled with the required technical competence and due care. Companies that are exempt from audit and filing requirement are still required to prepare a full set of financial statements including notes to the accounts and must be accompanied by the Directors' Statement. Smooth can assist in preparing financial statements in accordance with Singapore Financial Reporting Standards and Companies Act.

XBRL Services. With effect from 2 December 2013, companies would be required to file their financial statements in XBRL (eXtensible Business Reporting Language) via new BizFinx system. XBRL is a reporting format which allows the system to read and analyse relevant financial data. We will assist in converting soft-copy financial statements into XBRL format as well as resolving genuine and possible errors detected by BizFinx system.

Payroll Services. Our payroll services include:
Calculation of employee salary and filing of monthly statutory deductions
Salary crediting into employee's bank account & statutory payments
Leave & expense claims administration
Preparation of year end IR8A form