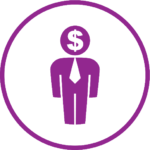 Smooth can perform the role of your CFO at a fraction of the cost.
The traditional role of a Chief Financial Officer (CFO) was typically to keep business finances updated, create a healthy cash flow and profitability of your business, while taking charge of the financial reporting so that they can ensure that a company is compliant with regulations and at the same time, provide accurate historical financial data.
However, the modern role of a CFO includes two other important aspects. While financial reporting continues as the bread and butter of every CFO, strategic financial planning and managing the financing structure becomes equally important in the full spectrum of what a CFO should do.
A virtual CFO improves the performance and profitability of your business. Every successful corporation has a CFO. However, the level of expertise that a CFO provides is normally beyond the reach of smaller businesses. Hence, if you are looking to grow your business and increase your profits in a sustainable manner but are not able to afford an in-house CFO, you should probably consider using our Smooth Virtual CFO service.
How can Smooth help me?
Smooth takes on the role of a virtual CFO to provide entrepreneurs with the necessary financial planning support. How having Smooth as your virtual CFO may benefit you in the following ways:

Transparency. A clear overview of your entire business with concrete numbers allows you to have transparency on performance which makes the management decisions you make more effective.

Save Time & Cost. By implementing a finance system at a fraction of the cost which takes care of itself, you can have an effective focus to channel your energy towards improving the overall health of your business. This will enable you to save both money and time.

Assess Feasibility. When you structure the finances your business in an organised manner or assess the financial feasibility of a business idea, you will put yourself at a better position to be more equipped with a greater commercial sense of what actually works and what will not.